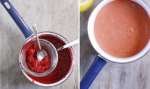 PT30M

30 minutes

,
5 Steps
Lemon curd is one of those things that takes me back to my childhood. We used to have a jar of it every once in a while as a very special treat that my aunt would bring from London when she visited. I never knew how easy it was to make from scratch until last year when I made these Madeleines with Lemon Curd.

Not too long ago I realised that curd can be made with any acid fruit you like and I immediately thought of raspberries. For this recipe I have kept the lemon and added some ginger as I love how it goes with sharp flavoured fruits.

Ingredients:

150ml lemon juice freshly squeezed
60gr of raspberries
1 lemon grated zest
2 teaspoons of grated ginger
2 eggs and 2 extra yolks
80gr butter
40gr sugar (or more if you like it sweeter)

In a saucepan melt the butter, then add the lemon juice, lemon zest, grated ginger and the raspberries (you can throw them in directly or press them through a si
Step by step
1

In a saucepan melt the butter, then add the lemon juice, lemon zest, grated ginger and the raspberries (you can throw them in directly or press them through a sieve using a spoon as in the picture). When all the ingredients are combined, set aside.

2

In a bowl, whisk the 2 eggs and the 2 egg yolks. Now add a tablespoon of the butter, lemon and raspberry mixture to the eggs to warm them up a little and so avoid them turning into an omelette. Now slowly add them to the fruit mixture in the saucepan and stir well.

3

Put the saucepan back on medium heat and stir continuously until the consistency thickens and begins to bubble around the sides.

4

Turn off the heat and press the curd through a sieve to get rid of any remaining lemon zest and ginger fibers that might be left.

5

Keep in a Mason jar in the fridge and enjoy on toast, as a topping on a cake, in a tart (see photo above), with yogurt... the list is endless.